Sách Giải Bài Tập và SGK
Mục lục
Lớp 12
Lớp 11
Lớp 10
Lớp 9
Lớp 8
Lớp 7
Lớp 6
Unit 8: Writing (trang 25)
Unit 8: The world of work
Unit 8: Writing (trang 25)
1. Read the following job advertisement. Answer the questions about it. (Đọc quảng cáo công việc sau đây. Trả lời các câu hỏi về nó)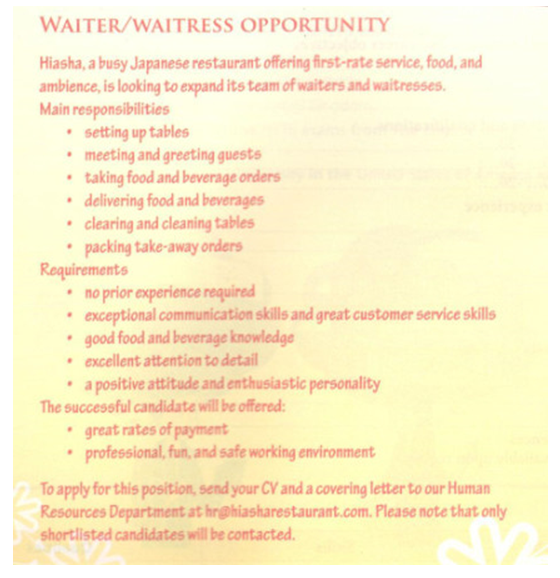 1. A waiter/waitress
2. Tick: setting up tables, clearing tables, putting take-away orders in bags for customers
3. No, they don't.
4. They can get great rates of payment and work in a professional, fun, and safe environment
5. No, only shortlisted candidates will be contacted.
2. You think that the job of waiter/waitress advertised in is exactly the one you are looking for. Write a CV of your own to apply for it. Remember to tailor your CV to the job requirements so that you have a better chance of being shortlisted for an interview. (Bạn nghĩ rằng công việc bồi bàn quảng cáo ở bài 1 chính là việc bạn đang tìm kiếm. Viết CV của riêng bạn để đăng ký cho nó. Hãy nhớ điều chỉnh CV của bạn để phù hợp yêu cầu công việc để bạn có một cơ hội được lọt vào danh sách phỏng vấn)
Gợi ý
Personal details
Name: Le My Linh
Address 298 Tran Dang Ninh, Cau Giay, Ha Noi
Mobile phone: 08-9803786
Email: mylinhle230@gmail.com
Personal summary and career objectives
I am a harmonious and responsible individual who can work hard, communicate well and has good interpersonal skills. I have recently completed high school. I am seeking for a position in the catering industry to obtain experience and to improve my customer service skills.
Education and qualifications
2012-2015: To Hoang high school
2018-2012: Dong Da secondary school
2003-2008: Kim Lien Primary school.
Work experience
Summer 2014: worked as a waiter at the school canteen
Summer 2015: worked as a waiter for a café.
Skills
Good speaking English
Preparing food and drinks
Multitasking